Destination Sport Group are pleased to be shortlisted for two awards in the Sports Business Awards 2023.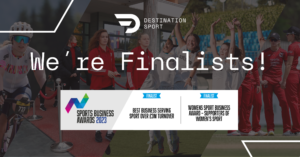 The nominations follow-on from Destination Sport Group receiving a bronze award for Best Business Serving Football in the Football Business Awards 2023.
Founded in 2019 and now operating with over 200 employees in 14 different countries around the world, Destination Sport provides a market-leading sports travel solution across five divisions. The group works with 75+ sports industry partners and clients including teams, governing bodies and events.
Destination Sport Group has a strong commitment to support the development and growth of women's sport. As an employer, Destination Sport has a strong female influence within the workplace, plus a Women's Sport Working Group which meets monthly to shape strategy and explore additional opportunities within women's sport.
The winners of the Sports Business Awards will be recognised at an awards ceremony in London in November.
Destination Sport Group would also like to congratulate its sport industry peers who have also been shortlisted.