Destination Sport Travel and Sportsbreaks.com are pleased to announce a continuation of its partnership with Saracens.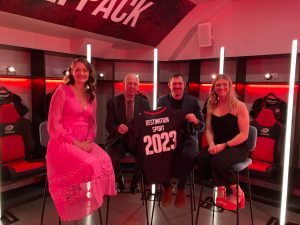 As part of the long-term extension, Destination Sport Travel, the UK's leading travel solution for elite sports clubs and governing bodies, will continue to manage travel on behalf of Saracens' Men's and Women's rugby sides, in addition to Saracens Mavericks netball.
Meanwhile sister business Sportsbreaks.com provides opportunities for Saracens fans to experience ticket-inclusive packages to many of the world's top sporting events including rugby, football, cricket and Formula 1. Sportsbreaks.com is an Official Travel Agent for Rugby World Cup 2023 and remain on-sale with a limited number of packages for this year's eagerly anticipated tournament in France.
Saracens Commercial Director Lucy Englander commented,
"We are delighted to be extending our partnership with Destination Sport Travel and Sportsbreaks.com across our Men's, Women's and Mavericks teams.
"Throughout our long-term partnership, Destination Sport Travel and Sportsbreaks.com have continued to deliver outstanding travel services for our teams and fans alike and we very much look forward to developing our relationship further with the team there."
Managing Director of Destination Sport Travel and Sportsbreaks.com Rob Slawson added,
"We're extremely proud to continue our relationship with Saracens.
"The partnership is particularly unique in that Destination Sport Travel support with the travel arrangements not only for Saracens' Men's and Women's sides but also Saracens Netball.
"Saracens travel requirements clearly differ by team but this is where we step in, providing a best-in-class solution which has been sharpened through many years of working across a multitude of sports.
"We also know that Saracens supporters engage greatly with our market-leading fan travel offering Sportsbreaks.com so we look forward to seeing a number of the club's fans in France to support their country at this year's Rugby World Cup, plus other huge sporting events within the calendar."
For more information on Destination Sport Travel please click HERE
For more information on Sportsbreaks.com please click HERE