[vc_row][vc_column][vc_column_text]
Destination Sport Travel and Sportsbreaks.com are delighted to announce a new partnership with Harlequins.

The UK's leading travel provider for elite sports clubs, Destination Sport Travel will be supporting Harlequins with all aspects of team and business travel as part of a multi-year partnership.
The organisation's growing client list includes the likes of Manchester City FC, Tottenham Hotspur and Scottish Rugby, in addition to numerous domestic rugby clubs across Premiership Rugby and The United Rugby Championship.
As part of the partnership, sister brand Sportsbreaks.com will also provide opportunities for Harlequins supporters to follow their team via official supporter travel packages to selected fixtures. Fans can click HERE to register their interest in future supporter trips.
Specialising in unforgettable sports travel experiences to many of the world's top sports events, Sportsbreaks.com are also an official travel agent to Rugby World Cup 2023 and will provide opportunities for Harlequins supporters to cheer on their country at next year's eagerly awaited tournament.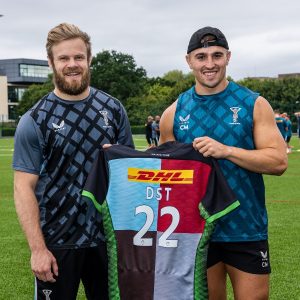 Steve Morton, Harlequins Chief Commercial Officer, said: "We are extremely pleased to announce the Club's partnership with Destination Sport Travel and Sportsbreaks.com. With increased travel demands within the team's schedule following the addition of some exciting opposition, we wanted to ensure our supporters had the easiest and most enjoyable away day experience.
"The travel support this partnership will give our performance team as they travel to face some of the best sides from across the world will also be invaluable and we are delighted to welcome Destination Sport Travel to the Harlequins family."
Destination Sport Travel and Sportsbreaks.com Managing Director Rob Slawson added, "We're delighted to welcome Harlequins as our latest rugby club partner.
"Destination Sport Travel was formed in 2019, initially as Clarity Sports, and since that time we're really pleased to have built a glowing reputation amongst rugby clubs thanks to our unrivalled service and experienced staff.
"Harlequins will encounter some complex travel requirements this season including their trips to South Africa and France in the European Heineken Champions Cup but we're well-versed in these destinations and will be there to help them every step of the way.
"Additionally, we look forward to providing opportunities for Quins fans to support their club and country, plus experience a variety of other unmissable sports events via Sportsbreaks.com."
To find out more about Destination Sport Travel please click HERE
To register your interest in future Harlequins supporter travel or learn more about other Sportsbreaks.com products including Rugby World Cup 2023 ticket and hotel breaks, please click HERE
[/vc_column_text][/vc_column][/vc_row]