[vc_row][vc_column][vc_column_text]
Wigan Warriors are delighted to announce a partnership with Clarity Sports, the Club's new Official Travel Partner.

The multi-year relationship will mark Clarity Sports first partnership within Rugby League, complimenting the brand's existing relationships across a variety of elite sports including football, rugby union, cricket and cycling.
The agreement will see Clarity Sports provide Wigan Warriors with specialist team travel management for the Club's away fixtures in France, plus domestic and business travel.
Clarity Sports have strong experience in rugby via ongoing relationships with Saracens, Leicester Tigers and Scottish Rugby as part of a wider client portfolio which includes the likes of Manchester City, Tottenham Hotspur and Lancashire Cricket Club.
As part of the partnership, Sportsbreaks.com will provide supporter travel packages for selected fixtures.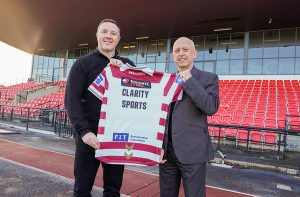 Established in 2019 with over 80 years of combined experience, Sportsbreaks.com specialises in offering unforgettable sports travel packages. The brand will also seek to raise awareness of its wider product offering, which comprises ticket, travel and hotel packages centred around the biggest, most talked about sporting events in the world ranging from Premier League match breaks to the Formula 1 Grand Prix.
Warriors Executive Director, Kris Radlinski, said: "Clarity Sports were a great choice for a new travel partner and it's fantastic to welcome them to the Warriors family, especially in our 150th year and beyond.
"With the need for additional travel requirements as we now play two French sides in the Betfred Super League competition, partnering with the right people to support us on away game travel is absolutely imperative. Organising the Club's travel to ensure all the performance teams needs are met is a huge responsibility and we're confident from our conversations with Clarity Sports that they are the right firm for the job. We look forward to Rounds 4 and 5 as we embark on our French adventure."
Rob Slawson, Managing Director of Clarity Sports and sportsbreaks.com, commented: "We are very pleased to be able to announce this latest partnership. Wigan Warriors are a fantastic club, and to be entrusted with facilitating their team and supporter travel is a privilege.
"This partnership is a big step for us, marking Clarity Sports' first in Rugby League. The sport has a great fanbase and real character, and so we are very excited to become a part of it and help enhance the team and fan experience going forward."
[/vc_column_text][/vc_column][/vc_row]