Destination Sport Group have today announced the launch of a new joint venture with SweetSpot Group, the sports events and marketing company behind the Tour of Britain, Women's Tour and Tour Series cycling events.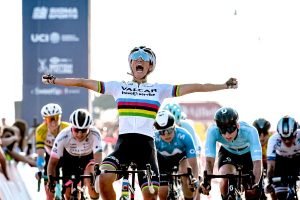 This new enterprise, which will be positioned in the Destination Sport Group portfolio, will focus on building further hospitality experiences, provide hotel and logistical support for participating teams and developing opportunities for cycling enthusiasts to experience the thrill of riding stages of the Tour of Britain, the Women's Tour and the Tour Series, which all get underway later this year.
Under the new agreement, three of Destination Sport Group's sport travel brands will each play a prominent role in this new joint venture.
• Sportsbreaks.com will work closely with SweetSpot Group to develop and evolve the hospitality opportunities at the start and finish of each stage of the Tour of Britain and the Women's Tour, together with providing an unforgettable experience at each of the Tour Series races this year
• Clarity Sports will provide the hotel accommodation and transport logistics for the participating teams in the Tour of Britain and Women's Tour, together with supporting the event delivery organisation at each of the races.
• Destination Sport Experiences will develop new opportunities to experience the Tour at other points in the race, soak up the atmosphere in official cars on the road and allow cyclists to follow in the tracks of their heroes by riding various stages.
Hugh Roberts, CEO of SweetSpot, commented "We have been hoping to find the right 'fit' with an established Hospitality and Travel Partner for some while and our plans were thwarted by the events of the last two years.
"The time is now ideal I feel for SweetSpot to collaborate in a much more meaningful way with the team at Destination Sport Group who will help us to expand and develop our hospitality and travel ambitions especially as our objectives are very much aligned. We are delighted to announce this news and look forward to a long and mutually rewarding partnership."
Paul Hemingway, Managing Director of Destination Sports Group, added: "We look forward to working with Hugh and the team to create some of the most unique opportunities to view the Tour of Britain and Women's Tour, as well as amazing participation events so that cyclists can enjoy the thrill of the race from a very different perspective and emulate some of the great riders who have ridden on the Tour."
For more information about this year's events, please click HERE