Specialist sports travel operator Sportsbreaks.com will be the presenting partner of this year's Tour Series, Britain's leading televised cycle race series.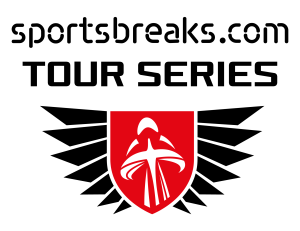 The series begins next week in Guisborough, North Yorkshire (Bank Holiday Monday 2 May), and features seven events across England and Scotland, including an as yet unannounced Grand Final in a major British city centre.
Sportsbreaks.com, who have been the Official Hospitality Partner of the Tour Series, Tour of Britain, and Women's Tour, since 2021 offer unrivalled sports travel experiences to the world's most exciting sporting events ranging from domestic and international football match breaks to trips to various Formula 1 races around the world.
Rob Slawson, Managing Director of Sportsbreaks.com commented, "We are delighted to further develop our relationship with the Tour Series by becoming presenting partner of this year's event.
"Through our long-term partnership with the race organisers SweetSpot, we're committed to supporting the continued development of the Sportsbreaks.com Tour Series, plus the Women's Tour and Tour of Britain, by offering our exclusive hospitality at every stage of each race.
"As huge sports fans ourselves, we can't wait for the Sportsbreaks.com Tour Series to get underway and look forward to seeing cycling fans come out in great numbers around the country to witness world-class racing and unforgettable hospitality."
Sportsbreaks.com will be offering exclusive hospitality at each round of the Tour Series, alongside unmissable experiences at each start and finish of the Women's Tour (6 – 11 June) and the Tour of Britain (4 – 11 September).
The Tour Series is cycling's leading spectator-friendly event, as the hour-long men's and women's race allow fans to see Britain's leading riders repeatedly, with the racing accompanied by a high-octane DJ set and festival atmosphere.
Highlights of both the men's and women's races will once again be aired on ITV4 with Sportsbreaks.com the presenting partner of ITV4's coverage of the Tour Series, enjoying broadcast sponsorship across the seven one-hour programmes.
For the first time every round of the Sportsbreaks.com Tour Series will also be streamed live on the Tour's YouTube channel with no geo-restrictions.
Hugh Roberts, Executive Chairman of Tour Series organisers SweetSpot Group, said: "We are delighted to be deepening our partnership with the team at Sportsbreaks.com who are a fitting presenting partner for the Tour Series. The Tour Series is all about the action and excitement of city centre cycling, which fits perfectly with the spirit of Sportsbreaks.com and the wide range of sporting travel experiences they offer."
Launched in 2009, the Tour Series remains unique in professional cycling owing to its team-based format. Last year's series saw the Ribble Weldtite Pro Cycling and CAMS – Basso teams crowned as the men's and women's champions respectively.
This year's series comprises seven rounds across May. In addition to Guisborough hosting the series opener once again, Sunderland also returns to the series schedule for the second year running on Tuesday 10 May.
Scotland will host two rounds – Galashiels (Wednesday 4 May) and Stranraer (Thursday 12 May), before Britain's best teams and riders head to the seaside for the series' first-ever visit to Clacton on Thursday 19 May.
The series will visit London for the first time since 2018 when Barking hosts what promises to be one of the quickest rounds in history on Saturday 21 May. This year's champions will be crowned at the Grand Final on Tuesday 24 May.
Hospitality is now available for all rounds of the Tour Series from £40 per person via Official Hospitality Partners Sportsbreaks.com.