[vc_row][vc_column][vc_column_text]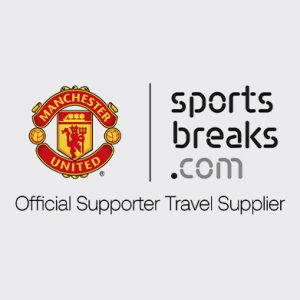 From the 2021/22 season, Sportsbreaks.com will provide Match Break packages, including an official ticket and a choice of overnight accommodation for games at Old Trafford once crowds are back to full capacity, to fans in the UK and Europe.
Sportsbreaks.com will also offer Official Supporter Travel services for Manchester United season ticket holders and Executive Club members for domestic and European away games.
Sportsbreaks.com will be the exclusive provider of Match Break packages, ensuring that there is only one place to go if you are a Manchester United supporter looking for the perfect experience to enjoy a game at Old Trafford, with an overnight stay, and opportunity to take in everything else Manchester has to offer.
United Season Ticket holders and Executive Club members will also be able to rely on Sportsbreaks.com for travel to domestic and European away games from next season, providing a crucial service to the club's most loyal followers.
This new fan service, providing high quality and competitively-priced travel to Manchester United fans, follows consultation with the club's Fans' Forum and independent fan groups to ensure that Sportsbreaks.com meets the needs of our travelling fans.
Sportsbreaks.com are also offering fans the chance to win an incredible Match Break experience, including a night's stay with breakfast at the four-star Marriott V&A hotel in Manchester, with tickets to a game of their choice, once Old Trafford returns to full capacity. The winning prizes will be made available to one lucky pair of United fans, while there will also be three signed shirts available for runners up. To enter the draw, fans will need to pre-register their interest in Match Break packages here.
Rob Slawson, Director of Sports Travel at Clarity Travel and Sportsbreaks.com, commented: "Manchester United is a global sporting icon with an incredible history, as well as a dedicated global fanbase and we are delighted to offer fans the best and safest possible supporter travel and are working closely with the club to ensure that fans from the UK and internationally can enjoy unique and memorable sporting experiences.
"Through our official Match Break packages, Manchester United fans can build a bespoke trip to suit them, that will allow time to enjoy the sights and culture on offer in the fabulous city of Manchester, before heading to the famous Theatre of Dreams. We're thrilled to provide United fans all over the world with our fantastic match break experiences and are especially pleased to offer some lucky fans the opportunity to win a Match Break as we kick-off this hugely exciting partnership."
Manchester United's Chief Operating Officer, Collette Roche, commented: "Offering bespoke matchday packages will give fans at home and abroad the chance to take in the full Manchester United experience, with Sportsbreaks.com creating unforgettable moments for our passionate fans.
"The team at Sportsbreaks supported us to arrange our official travel packages to the UEFA Europa League final in Gdańsk. We were impressed by the quality of their service and their plans to introduce flight-only packages. We look forward to working with them in the months and years ahead."
Sportsbreaks.com are the sporting arm of travel experts, Clarity Travel, specialising in experiences specifically tailored for sporting fans. Their expert team has years of experience in the industry, taking football fans all over the world to enjoy the best experiences the game can offer.[/vc_column_text][ohio_button layout="link" shape_position="left" icon_use="1″ icon_position="right" link="url:https%3A%2F%2Fwww.manutd.com%2Fen%2Fnews%2Fdetail%2Fsportsbreaks-becomes-official-supporter-travel-supplier-of-manchester-united|title:See%20press%20release%20on%20manutd.com|target:_blank" icon_as_icon="ion ion-md-arrow-forward" title_typo="null" title_typo_hover="null"][/vc_column][/vc_row]