Destination Sport Group are pleased to partner with The Premier League, becoming the official travel management provider for the Premier League Summer Series.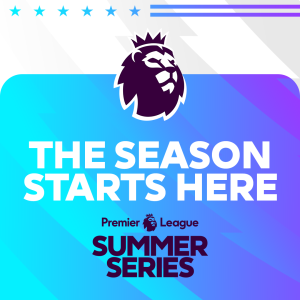 Three of Destination Sport Group's divisions will be in action through the tournament, which sees Aston Villa, Brentford, Brighton & Hove Albion, Chelsea, Fulham and Newcastle United competing in nine matches across five East Coast cities from 22-30 July.
Destination Sport Travel, the UK's leading travel management provider for elite sports clubs and governing bodies, has supported the Premier League with travel for its staff, officials and a number of participating teams.
inspiresport – a leading youth sports development tour for clubs, high schools and colleges, which has its US office base in Atlanta, GA – will be involved in coaching workshops to engage with its network of local coaches. inspiresport have a long history of bringing teams to UK and Europe for tours, coach education and tournaments via its partnerships with a number of elite clubs.
Sportsbreaks.com, which offers ticket-inclusive packages to many of the world's top sporting events, will also engage with fans throughout the tournament. Sportsbreaks.com offer official ticket and hotel breaks to several leading Premier League clubs, offering millions of U.S. fans with the opportunity to experience a trip to the UK.
Destination Sport Group Managing Director Paul Hemingway said: "We're incredibly excited to partner with the Premier League and be involved with the Summer Series tournament.
"The partnership comes at an exciting time for Destination Sport as a key focus for the business is continuing to strategically expand our presence within the U.S.
"The task of moving Premier League staff and officials, plus several participating teams, across to the U.S. is a big undertaking and a project that
Destination Sport Travel have been privileged to work on extensively during the past few months.
"As the tournament approaches, we're equally excited for inspiresport and Sportsbreaks.com to engage with coaches, clubs and fans in each of the host cities, providing fantastic exposure for our youth tour and fan travel offerings."
Premier League Chief Commercial Officer Will Brass added: "Our first pre-season tournament in the United States has been a significant project and we are grateful to Destination Sport for their expert support with it.
"Our clubs have now started arriving in the host cities and we can't wait for the matches to kick off this weekend. I have no doubt it is going to be a fantastic event and it is exciting to bring a live Premier League matchday experience to fans in the US for the first time."