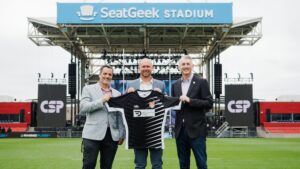 Destination Sport Group is excited to announce a comprehensive partnership with Major League Rugby, the leading rugby competition in North America.
As part of a multi-year partnership, Destination Sport Travel's U.S. based team will handle travel, hotel accommodation and logistics for each of Major League Rugby's teams alongside staff and officials. 
Destination Sport Travel is a global leader in travel management for elite sports organisations, working with more than 40 professional teams and governing bodies. The business is well-versed in rugby via its existing partnerships with Scottish Rugby and nine domestic clubs which compete across the Gallagher Premiership and United Rugby Championship competitions, as well as the likes of Manchester City, British Cycling and International Ice Hockey Federation across a multitude of sports.
Inspiresport, Destination Sport's youth development tour division, will work with Major League Rugby to support the growing grassroots and youth infrastructure. Inspiresport offer the opportunity for youth teams, high schools and colleges to enjoy unrivalled sports development tours across global destinations including UK, Europe, Australia, and New Zealand including training with professional coaches at elite facilities, friendlies against local opposition and experiencing the local culture. Major League Rugby and its teams will also work in collaboration with inspiresport to deliver player and coach education programmes locally within U.S.
The partnership builds upon Major League Rugby's existing affiliation with Destination Sport's fan travel brand, Sportsbreaks.com, which will continue to offer ticket-inclusive packages to Major League Rugby events, having done so at this year's Championship Final in Chicago. With the ambition of providing fans with a trusted source of packages for many of the world's top sporting events, Sportsbreaks.com will also utilise the partnership to promote its wider product portfolio including U.K. and European soccer, plus events within the U.S. including Formula 1 races and The Masters.
Destination Sport Group Paul Hemingway commented,
"We are delighted to announce our relationship with Major League Rugby, a partnership which not only evidences the depth of Destination Sport's offering but also our strategic expansion into the North American market.
"Over the past 18 months, we have made significant investment into building our U.S. infrastructure across Destination Sport Travel, Sportsbreaks.com and inspiresport.
"With the continued development of rugby within North America, Major League Rugby makes a fantastic partner with whom we can work with closely as both organisations grow.
"We're looking forward to bringing our knowledge of delivering best-in-class rugby travel programmes across professional sports team travel, fan travel and youth development tours, to support the continued growth of Major League Rugby."
Nic Benson, CEO of Major League Rugby added,
"Destination Sport handles highly demanding travel logistics operations for some of the most prestigious brands in sports, and they have an unparalleled grasp of the complex logistics associated with professional rugby.
"As Major League Rugby grows ahead of the 2031 World Cup, having a trusted travel partner to take care of our teams, staff, officials, and fans, is essential. We're looking forward to working with them and continuing to raise the profile of our sport in the U.S."