Leading sports travel specialists, Destination Sport Experiences, are delighted to announce a new multi-faceted partnership with England Athletics as their Official Travel Partner with numerous new offerings and benefits to England Athletics members and clubs.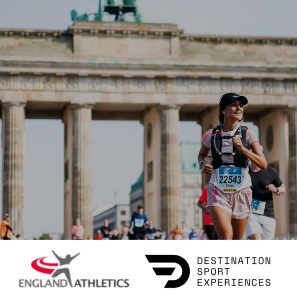 Members of England Athletics can now take advantage of more benefits than ever before thanks to an exciting new partnership with Destination Sport Experiences.
Catering for those who want to participate in the very best running, triathlon, and cycling events both nationally and internationally, the team at Destination Sport Experiences are all keen runners, triathletes, and cyclists themselves so they know and understand the needs of competitors when racing both at home and abroad.
The new partnership will see several new initiatives being developed and implemented to support and enhance both training and competing for England Athletics members, teams and clubs. At the core of the partnership, Destination Sport Experiences will be offering bespoke travel packages for selected England Athletics events, which will include coach services from multiple locations, premium accommodation, VIP hospitality, and a focus on sustainability.
For England Athletics affiliated clubs, Destination Sport Experiences will be offering a Bespoke Club Concierge Service, in which the expert team will take care of all travel logistics both in the UK and overseas with a designated member of the experienced Destination Sport Experiences team allocated for direct contact and support.
For teams and individual athletes, Destination Sport Experiences will be developing services for all England Athletics Talent Camps as well as national and international competitions. Destination Sport Experiences will be working with England Athletics Road Running and Coaching teams to develop bespoke overseas training camps exclusively for registered athletes.
Chris Jones, England Athletics Chief Executive, said, "We are delighted to welcome Destination Sport Experiences to the England Athletics family as our Official Travel Partner. This is the first time we have brought together all travel services under one partnership and we are incredibly excited to be working with such a prestigious travel group. We all know and understand the importance of travelling with a trusted and reputable travel company and as members of ABTA and ATOL we know that our athletes, members and staff can travel with that assurance."
Brendan Fox, Destination Sport Experiences Managing Director, said, "Destination Sport Experiences is pleased to be appointed as the Official Travel Partner for England Athletics. We are proud to offer a range of benefits and offer our services to England Athletics members, clubs, and teams. This partnership is a great fit for us and the wider active community."
For more information on Destination Sport Experiences, please click HERE