[vc_row][vc_column][vc_column_text]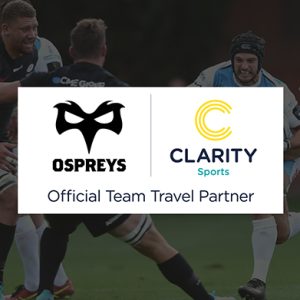 Ospreys have proudly announced their new partnership with travel experts, Clarity Sports which will see the organisation become our official travel supplier for the next three seasons.
Sportsbreaks.com and Clarity Travel provide supporter and team travel for some of rugby's biggest organisations, with Ospreys the latest top rugby union side to secure their first-class services.
With the Ospreys ready to take flight in the newly formatted United Rugby Championship and the Heineken Champions Cup, Clarity Sports' highly professional skills and experience will be of great benefit in the seasons ahead with trips to South Africa on the horizon.
In addition, Sportbreaks.com, the consumer arm of Clarity Sports, will be providing Ospreys supporters with travel to a selection of our Champions Cup fixtures, as we look to make an impact in the European competition.
Corin Palmer, Ospreys Performance Director said: "We're delighted to secure the services of Clarity Sports as we kick start the new season. Being able to draw on their expertise when we venture on trips abroad will allow us to ensure our journey's are as smooth, safe and enjoyable as possible.
"It's been a long time waiting for the return of fans to the stands, so for Clarity to be able to provide packages for not only the squad but for our supporters too will be hugely beneficial for the team by having that travelling away support backing the boys in the crowd all over the world."
Rob Slawson, Director of Sports Travel at Clarity, commented: "We are very pleased to be able to announce this latest partnership. Ospreys are a fantastic club, and to be entrusted with facilitating their team and supporter travel is a privilege.
"We are looking forward to working together and building a long-lasting partnership with Ospreys and their supporters, as fan attended sport takes steps back to normality."
[/vc_column_text][/vc_column][/vc_row]