Leading sports fan travel brand Sportsbreaks.com are delighted to announce a partnership with New York Jets, becoming the NFL team's first Official UK Match Break Partner.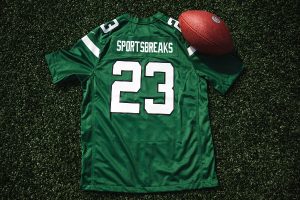 The agreement marks Sportsbreaks.com's first partnership with an NFL team, building upon its existing relationship with NFL UK where it offers official ticket and hotel breaks to the NFL London Games.

This partnership will provide the opportunity for New York Jets fans from the UK to watch their team at MetLife Stadium while seeing the sights of New York.
By securing their match break via Sportsbreaks.com, Jets fans will also be in with the chance of winning money-can't buy prizes including pre-game field access and autographed merchandise.

Sportsbreaks.com managing director Rob Slawson commented,

"We are proud of our longstanding relationship with the NFL and as the Sportsbreaks.com brand continues to grow, we are excited to develop relationships with its teams, starting with the Jets.
"From the outset, we were excited by the New York Jets plans to engage with and grow their UK fanbase as part of the NFL's Global Markets Program. We look forward to supporting these plans and providing Jets fans with an opportunity to watch their team at MetLife Stadium in the years to come.
"New York is already one of the world's most in-demand tourist destinations but throw in the chance to watch the Jets at MetLife Stadium and I can't think of many better weekends for a football fan."
Ian Lasher, Jets SVP, Corporate Partnerships added,
"We're excited to partner with Sportsbreaks.com to give our international fans a unique opportunity to enjoy the Jets gameday experience at MetLife Stadium.
"Partnering with Sportsbreaks.com, a business with a wealth of knowledge in the sports travel industry, allows us to continue reaching and impacting our fans across the globe. We pride ourselves in bridging the gap with our passionate fanbase in the United Kingdom, expanding our partnerships worldwide, and giving our fans access to New York Jets experience."
For more information on official New York Jets ticket and hotel breaks with Sportsbreaks.com, please click HERE.