Sportsbreaks.com are delighted to announce an extension of its long-term partnership with Lancashire Cricket, whilst also unveiling an enhanced Sportsbreaks.com Terrace which will feature in the new development at Emirates Old Trafford.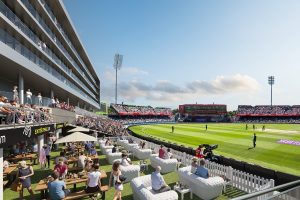 The Sportsbreaks.com Terrace will move to a permanent position within the newly developed stand from 2023, providing some of the best seats in the house. Tickets to the Sportsbreaks.com Terrace for next summer's international fixtures including the eagerly-awaited Ashes Test will go on-sale from Wednesday 21st September, and supporters can register HERE to receive notification of when these are available.
The ground floor of the Sportsbreaks.com Terrace will continue to be situated on the boundary rope offering access to a dedicated bar, plus an unrivalled view with sofas and picnic tables available. An all-new second tier will provide access to a private balcony plus dedicated seat.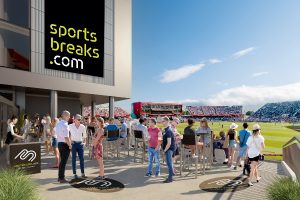 The support of Sportsbreaks.com is playing a key role in the Club's current redevelopment project, which includes a 1,025-seater stand, a heritage centre, a guest services hub, and a new retail store.
As a long-term partner of Lancashire Cricket, the Sportsbreaks.com logo continues to appear on the front of North West Thunder's playing shirts, plus the training and travel wear for Lancashire Cricket for the County Championship and Royal London Cup competitions.
Daniel Gidney, Chief Executive of Lancashire Cricket said: "I can't overstate the importance of the role Sportsbreaks.com have played in the new development at Emirates Old Trafford, without their support this project would not be going ahead. Upon completion in 2023, it's going to provide our stadium with amazing new space for supporters to come and watch sport in a unique environment.
"Alongside that support, Sportsbreaks.com really share and buy into what we are trying to do here as a business, both from a commercial and a community perspective. Their commitment to helping us grow the women's game has been ground-breaking and we look forward to working together for many years to come."
Rob Slawson, Managing Director of Sportsbreaks.com, added: "We're thrilled to unveil the enhanced Sportsbreaks.com Terrace at Emirates Old Trafford as part of a long-term relationship with Lancashire Cricket which continues to thrive.
"The reimagined Sportsbreaks.com Terrace will be a truly special place to watch cricket and we can't wait to welcome customers to see the Ashes Test, plus an international T20 fixture and full domestic schedule in what promises to be an amazing year of cricket."
Supporters are encouraged to click HERE to ensure they receive priority notification when tickets to the new Sportsbreaks.com Terrace become available.