[vc_row][vc_column][vc_column_text]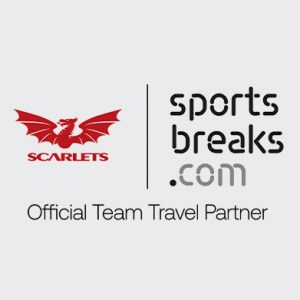 Scarlets are delighted to announce an exciting new partnership with Clarity Sports and their consumer travel provider Sportsbreaks.com.
The agreement, which will run for three years from the beginning of the 2020-21 season, will see Clarity serve as Scarlets' official travel partner, providing team and business travel, with Sportsbreaks.com providing supporter travel for a selection of Guinness Pro14 and European away matches.
Having already secured partnerships with Scottish Rugby Union, Leicester Tigers and Edinburgh Rugby, Clarity Sports and Sportsbreaks.com are a trusted name for rugby union fans, providing unforgettable sporting experiences.
Rob Slawson, Head of Sport at Clarity, commented: "We're delighted to announce this partnership with one of the biggest names in European rugby union. It is always a privilege when a club trusts you to facilitate their team travel and we hope our best in-class support can help them over the coming seasons.
"As well as facilitating the team travel, our supporter travel offering, provided through our consumer travel provider sportsbreaks.com, will give Scarlets fans the opportunity to follow their side to some of the biggest and best rugby arenas across the UK and Europe, providing them with the best matchday experience possible."
Scarlets Head of Commercial James Bibby added: "Playing in the Guinness PRO14 with all its challenges with travel means having a travel partner that is reliable and highly professional is vital to helping us succeed on the pitch. We are delighted to have secured Clarity as our travel partner and look forward to working with them over the coming seasons."[/vc_column_text][ohio_button layout="link" shape_position="left" icon_use="1″ icon_position="right" link="url:https%3A%2F%2Fwww.scarlets.wales%2Farticle%2Fscarlets-get-on-board-with-clarity-sports-in-new-travel-partnership%2F|title:See%20press%20release%20on%20scarlets.wales|target:_blank" icon_as_icon="ion ion-md-arrow-forward" title_typo="null" title_typo_hover="null"][/vc_column][/vc_row]